Rev. Dr. John W Mulinde is the Founder and Global Overseer of World Trumpet Mission,  World Trumpet Mission, an international ministry that promotes transforming revival globally, has been a part of the work of transformation that God has brought about in the nation of Uganda and in nations all over the world. John has been called by the Lord to "Blow the Trumpet" in the nations, calling the church to repentance and preparing the Body of Christ for the day of the Lord's return. He has been traveling the past few decades, sharing this message throughout the world. John and his wife Sheila have nine children and live in Kampala, Uganda.
He is a Certified Public Accountant of Uganda, a Fellow of the Chartered Certified Accountants of United Kingdom, holds an MBA from Makerere University and a Bachelor of Commerce (Hons) Degree from Makerere University.  Mr Tamale Augustine has 20 years experience of financial accounting.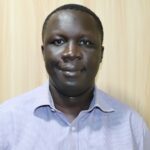 Mrs Esther Nakyala Serwadda
An organizational Psychologist called to prepare Gods people for the day of the Lord using her God given gifts. This she does by making administrative strategies and implementing them together with the whole WTM team to ensure that the great commission is completed with in our generation.
Grants and Operations Coordinator
Mary oversees the performance of all aspects of the mission's operations nationally and internationally to ensure all units are running effectively and in line with the organization's vision. She holds a Bachelors degree in Development studies and a Master's in Management studies. She brings over 12 years of experience in operational management skills and has had opportunity to apply these skills in various sectors of NGO, Health, Grants Management, Education and Construction.
Over the years in various positions, Mary has attained deepened experience in Operations, HR Management and Finance, as well as Project Management.


WTM global missions Coordinator
Pastor Sylvia P. Laughlin is Founder and CEO of Sylvia P. Laughlin Ministries and the Senior Pastor of World Outreach Christian Life Center Ministries, Orlando, Florida. She is driven and committed to reach all who are lost, hurting and broken through her mandate to reconnect hearts with the great love of Jesus in all parts of their lives.  Pastor Laughlin is a formidable woman who not only served in the U.S. Army for 28½ years, reaching the rank of Command Sergeant Major, but as an ordained pastor, she is serving our God through her ministries all over the world. She served as Executive Director 2016-2020 and currently serving as Global Missions Coordinator 2020-Present, for World Trumpet Mission, Uganda. She also serves on the International Steering Committee for Altar of Prayer.